Patio Canopies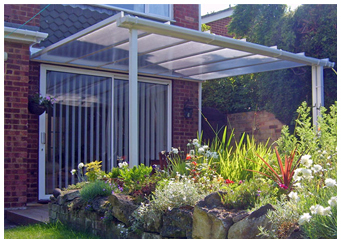 The Canopy Shop offers a range of canopies suitable for use as Patio or Deck roofing. Ideal for creating a cost effective shelter from the weather in your garden, canopy roofs are incredibly versatile, giving you an 'outdoor room' so you can get more out of your garden without worrying about the extremes of weather.
All Canopy Shop canopies are made from high quality aluminum with strong low-maintenance polycarbonate roofing, and come with a rainwater guttering and downpipe system. Our canopies are available in a wide range of sizes and styles, so you can select the canopy that is right for your needs. They are supplied in kit form, suitable to two people to DIY, or optionally you can enquire about our fitting service.
Our Homestyle Traditional Multi Purpose Canopy is particularly suited for use as patio roofing for carports. We also offer the freestanding Contour Curved Roof canopy. You can select the size of canopy you require and buy securely online directly though this website, and we will ship your canopy directly to you - we offer free shipping within mainland UK as standard.
Select from one of the following projections for further information.
(Projection is the distance from the wall to the edge of the canopy)