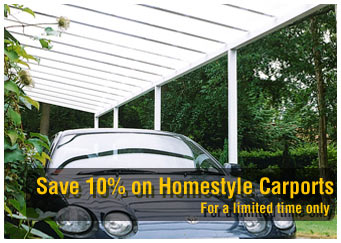 To take advantage of our fantastic offer, simply enter
OfferCanopy10
at the checkout and get 10% off your order!
A carport canopy offers low cost, low maintenance protection for your car, caravan or other prized possession. Simpler to construct, more cost effective and less space consuming than a garage, a car port from the Canopy Shop offers great flexibility with a wide range of designs and styles.
All our canopy kits are constructed from high quality aluminium with polycarbonate roofing, and come complete with a rainwater guttering and downpipe system. All Canopy Shop canopies are available in a range of sizes and styles, so you can choose the canopy that is right for your needs. They are supplied in kit form, either suitable for two people to DIY, or optionally you can use our fitting service.
Our Homestyle Multi Purpose canopies attach directly to your house wall, or if you need a freestanding style our Contour Line Curved Roof canopies and The Crescent Canopies fit the bill. Use the thumbnails below or the navigation menu on the left of the page to navigate though our canopy product pages.
You can select the size of canopy you require and buy securely online directly though this website, and we will ship your canopy directly to you - we offer free shipping within mainland UK as standard and all our prices are inclusive of VAT.
Select from one of the following designs for further information and pricing.